Extend your Paddle Season with Ocean Rodeo DrySuits
Soul One-Piece Drysuit
Ocean Rodeo's SOUL, highly refined design meets technical performance.
Offering greater flexibility than any wetsuit and customizable levels of warmth the SOUL is Ocean Rodeo's premier drysuit for SUPing, Kiting and Sailing. The SOUL features: waterproof breathable material, Captive Zip self entry, crotch relief zip and a removable hood and while it looks like a 2 piece jacket and pants the SOUL is actually a 100% dry, one-piece suit.
The devil's in the details, trust your SOUL to keep you warm this season!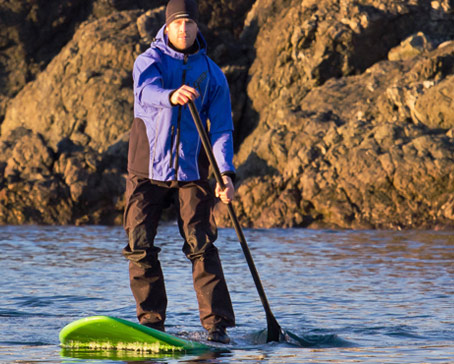 Water Proof Breathable Material
Ocean Rodeo's waterproof breathable trilaminate material was designed specifically for dry-suits, featuring a salt water resistant Polyurethane breathable membrane.
Extensive testing was undertaken to ensure long lasting resilience against the harsh, salt water environment and high pressures encountered by extreme water sports athletes.
(Outside) Abrasion layer:
200 Denier Nylon/Taslan with DWR finish. tough outer fabric with fast drying times
(Middle) Microporis breathable Polyurethane Membrane (PU).
VentOR works well in both fresh and salt water environments and does not break down with extended salt water use.
This is the part of the suit that keeps you dry. It allows heat and vapor out while not letting any water in.